In honour of Gender Equality Week, Locelle's CEO Humaira Ahmed led a session in partnership with Minerva BC on how to achieve gender equality through the power of mentorship for women. The mission at Locelle is developing the gender diverse leadership pipeline, particularly within male-dominated industries, working towards gender equality by moving the needle in creating equitable workplaces.
Leading with the mantra of "progress, not perfection", Humaira Ahmed's powerful message on navigating gender equality in the workplace resonated with many at the event. Some key figures that were found through interaction with the 80+ attendees are demonstrated through the question that was proposed: 
What is the Biggest Challenge Women Face in the Workplace? Imposter Syndrome and Navigating Work-Life Balance 
Based on a live poll during the session, 30% of women voted
'Imposter Syndrome'
and 36% voted '
Navigating Work-Life Balance'
.
Studies
show that the common struggle women encounter is imposter syndrome, the feeling like you 'don't belong' or are inadequate at work, with women facing this at a higher rate than men.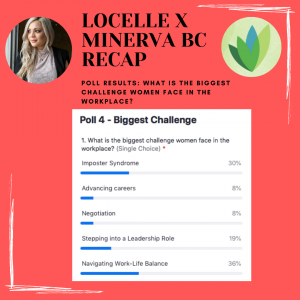 *Live poll created by Locelle at Minerva BC session
It is crucial that we start to create supportive work environments so we can empower women to feel more confident and equipped in their roles, and provide resources such as mentorship to make gender equality part of a company's fabric. 
How Can Mentorship Help Implement Gender Equality in the Workplace?
The power of mentorship can help women who are feeling isolated in the workforce, improve their job performance and thus give confidence to overcome imposter syndrome, helping them develop leadership competencies with more ease. Gender equality is a work in progress but with guidance, positive change can happen.
Mentorship provides support and opportunities, and by implementing this, companies will see increased productivity and engagement rates, resulting in retention of their top female talent. Our mentor roundtables at Locelle led by expert thought leaders, tackle subjects ranging from imposter syndrome, to managing work-life balance, leadership development and many more challenges women face in the workplace. 
Gender Equality Week Highlights
We wish everyone a Happy Gender Equality Week, and to keep in mind that it is a daily practise for us all to work towards creating more equal opportunities in the workplace and beyond.
About
Locelle:
Locelle is an employer-funded career development platform created for women in male-dominated industries. Through 1:1 tailored mentorship and professional development opportunities, Locelle delivers personal and professional growth to women at work. Their goal is to facilitate retention of top talent, employee engagement and development of the gender diverse leadership pipeline.
About Minerva BC:
Minerva BC is a registered charity established in 1999 dedicated to helping women and girls overcome personal, professional, and financial barriers. They understand the struggles women face in business, politics and society. Therefore, Minerva was created to ensure that future generations of women will not face the same struggle. Through leadership programs and initiatives, Minerva BC works to empower women and girls to achieve their highest potential.
Interested in learning more about mentorship with Locelle?

Latest posts by Elizabeth Schmidt
(see all)
LIKED THIS ARTICLE? SHARE IT!