Locelle is proud to be partnered with Safe PC and Microsoft on their Accelerate Atlanta initiative to provide mentorship for underrepresented women looking to upskill in the digital space, as part of the career readiness program.
Safe PC engaged with Locelle in the summer of 2021, as a pilot to provide mentorship to women in their training program. Locelle's mentorship platform proved to be a huge success, and became a game changer for women breaking into tech, increasing their employability with quick results.
"One of the main reasons that Safe PC  has been successful in our Accelerate Atlanta Program, and other skilling initiatives is because of Locelle's mentoring platform. Their platform is so innovative in bridging the digital divide, especially for women. Locelle is one of the most innovative companies to partner with in workforce development."  – Madinah Ali, President & Co-Founder, Safe PC
Through the mentorship sessions, with guidance that provided rapid employment success, we share the experience between mentor Nolan Code and one of his mentees, Mickayla Rose, who was awarded with an internship and most recently, a full-time position as a Security Engineer in the tech space as a direct result of Nolan's guidance and championship, where he opened doors for her to gain this incredible opportunity.
She shared: "This internship (which turned into a career) would not have happened if I didn't have a mentor backing me up, helping me prepare my resume and preparing me for interviews. Mr Code has shown me there is always a way to accomplish your goals if you put in the effort for it. I appreciate the Locelle mentorship program for being able to connect me with such an inspiring person."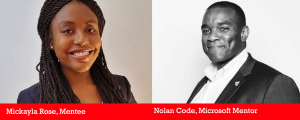 Job Placement
Mickayla Rose went from intern to full-time Security Engineer with Silicon Valley software company, Amplitude.
She commented: "My mentorship helped immensely, and I was able to be introduced to an internship which turned into a career."
From Pilot Experiment to Continued Program
The partnership began as a pilot program to leverage women from disenfranchised communities in succeeding to make it in tech, with guidance from allies within the space as mentors. Due to the results of how well it's been going, the partnership with Locelle will be continuing for further investment of more women as part of the Safe PC/ Microsoft Accelerate Atlanta initiative.
"Seeing the direct impact of mentorship firsthand, we know mentorship works. We need to go beyond making the match and ensure mentoring is successful with structure, guidance and aligning expectations between mentors and mentees." – Humaira Ahmed, Founder and CEO of Locelle -mentorship platform for women.
Locelle is excited to continue its mission to democratize access to mentorship, and move the needle in equality for women in the workplace.
Watch Mickayla's testimonial here
####
About Locelle: Locelle is an employer-funded career development platform created for women in male-dominated industries. Through 1:1 tailored mentorship and professional development opportunities, Locelle delivers personal and professional growth to women at work. Their goal is to facilitate retention of top talent, employee engagement and development of the gender diverse leadership pipeline.
About Safe PC: SafePC's EdTech division has partnered with some of the leading educational technology providers in the world such as Microsoft Accelerate, TD SYNNEX, Certiport, Google Education, and Isograd to bridge the digital divide in technology education. Their focus is on providing Microsoft IT Certifications, and Digital Literacy certifications such as IC3 and TOSA Digital.
About Microsoft Accelerate Atlanta: Microsoft Accelerate Atlanta works in partnership with local community leaders and businesses; breaking down barriers. They open access to in-demand careers and support job placement, by providing up-skilling and cross-skilling digital courses for anyone ready to redefine their future.
Media Contact: 
Avneet Takhar, Locelle Digital Community Manager
avneet.takhar@locelle.com
www.locelle.com
Interested in learning more about mentorship with Locelle?

Latest posts by Avneet Takhar
(see all)
LIKED THIS ARTICLE? SHARE IT!