In celebration of Women's History Month, we sat down with leader and Forbes' "Next 1000" entrepreneur, Chaitra Vedullapalli. As the Co-Founder of Women in Cloud, a community-led economic development organization for entrepreneurs and professionals driven by job creation and technology innovation, her commitment in creating sustainable economic access for other women is just one of her many philanthropy efforts in fuelling a system of success. A renowned public speaker who has led Tedx events and United Nations conferences, she's a firm believer in helping people and organizations achieve impact and influence for growth.
As someone with experience fighting, combating and breaking biases, she gave her perspective on how workplaces and employees can collectively create environments that foster equality over adversity.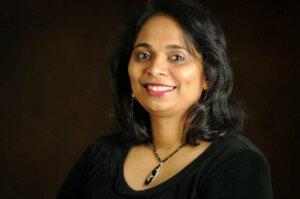 Insights 
Definition: bias is a feeling or opinion that is preconceived and/ or unseasoned.
There are 5 main biases:
Gender – and the role technology plays in perpetuating bias through algorithms and the digital divide. 80% of algorithms are developed by men and the upcoming innovation of Tesla's AI humanoids will likely further accelerate skewed gender data, impacting women.
Appearance –  the persona of what a 'good' employee or entrepreneur/unicorn entrepreneur looks like. This can heavily impact business decisions on funding and contracts.
Blame – when something goes wrong, blaming others rather than taking an introspective point of view.
Superiority – believing that you're always right and more important than others.
Confirmation – using data to move forward, rather than leading with empathy and intuition; looking at data from a 'black and white' lens.
Implementing Change
The 4-step formula is important for employees, decision-makers and leaders to implement in order to achieve overall success within work spaces.
Know yourself – this means unpacking everything from what makes you tick, to what your strengths and weaknesses are. Your personal presence and power is about who you are and owning it, and people pick up on this not only by your words and actions but also through body language, so authenticity is crucial.
Consider who you are serving – and remember that you cannot serve everybody, so being lazer-focused is key. As a leader there's another layer, where development and taking care of others is part of the role, so understanding this is vital in order for teams and relationships to flourish.
Reflect on the value you bring –  this includes skills, personality and workflows. It's about how your tangible qualities make a difference.
Explore what career adventure or creative path you're on – this makes it easier to manage others with more clarity and create other like-minded leaders.
What Can Workplaces do to Break the Bias?
During our conversation with Chaitra Vedullapalli we asked our audience for their thoughts on what workplaces can do better, and the majority vote leaned towards: building a more diverse leadership pipeline.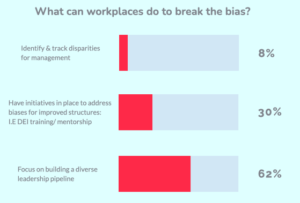 Interested in building the diverse leadership pipeline through mentorship?