Find a Mentor & Take Your Career To The Next Level
By signing up to become a Locelle member, you can instantly start taking charge of your career path, increasing your leadership impact, and building a community on a global platform designed to connect, empower and advance women.
Ready to give it a try? Sign up for a 3-month term to see the value!
Ready to crush your goals for the year? Get our annual membership at $200 off!
*Minimum commitment of 3 months.
**All prices are in USD.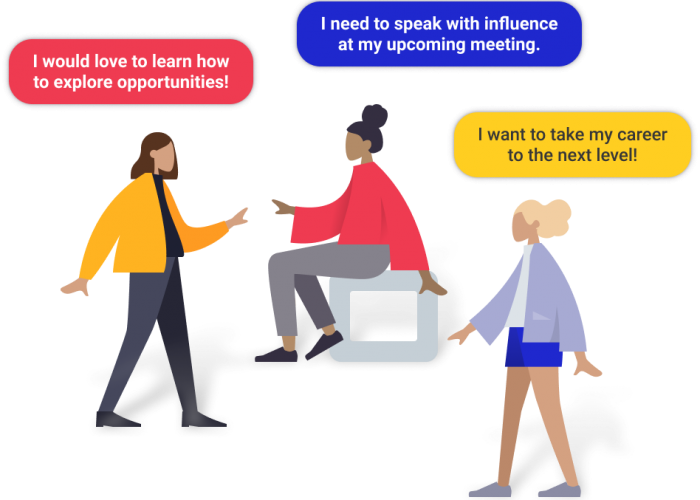 What Locelle Pro Members Are Saying
UX Lead
My mentor was compassionate and relatable, she offered helpful recommendations and next steps to help me on my journey. Speaking with her was an uplifting experience.
Sales Executive
It was great to talk about a new opportunity that I may have within my company and what should I know to prepare for it. Really enjoyed the session!
Sales & Marketing Manager
My mentor really helped bring more clarity to the direction I want to go. Her approach was just what I needed to carve out an initial path to my purpose. I'm so glad I took a chance on being a part of this program and look forward to more sessions!
HR Manager
I found it helpful to talk to a leader about how to take steps to be ready for a higher-level role and what I can do within my current role to learn new skills or take advantage of offerings within the company.
Technical Support Engineer
Wow! I could not be happier. My mentor is for sure a strong and very smart woman. Very knowledgeable in what she does, she is not just super busy but also very willing to help others. It was wonderful to meet her and very glad that she took some time to hear me and help me.
Mentee
RingPartner
"My mentor really helped bring more clarity to the direction I want to go. Her approach
was just what I needed to carve out an initial path to my purpose. I'm so glad I took a
chance on being a part of this program and look forward to chatting with her again!"
Mentee
RingPartner
"My mentor was easy to talk to and offered instant advice on how to make improvements
that reflect my existing strengths. She is well suited to be a mentor, I'm stoked I've been
introduced to her."
Mentee
RingPartner
"My mentor through Locelle is a talented coach and gently led me to question my mental models in a very compassionate and empathetic way. I really appreciated her bringing a coaching approach to the mentoring session which led me to a way I can re-frame mental models that are not serving me when I am building relationships."